Simplifying healthcare access for millions
We partner with Solv to improve healthcare access and processes for patients and providers on a national scale.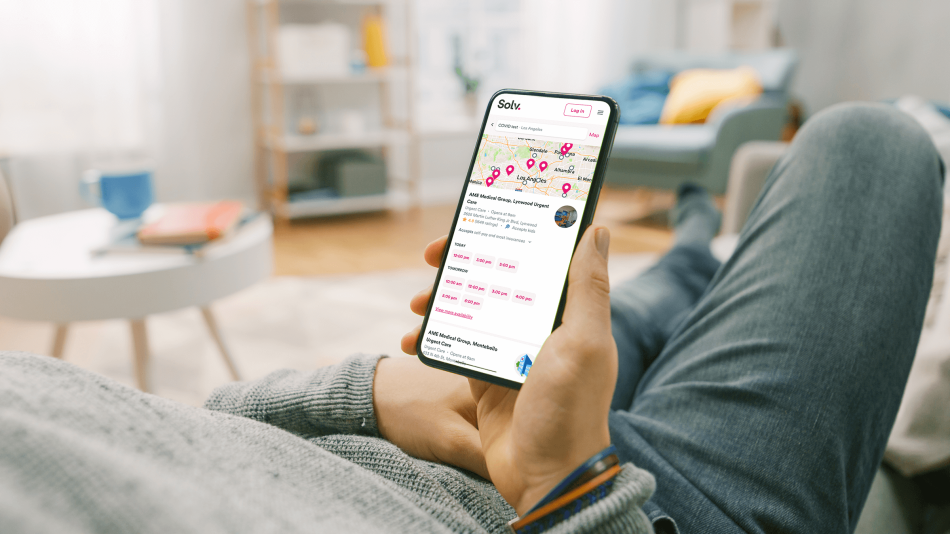 About Solv
Solv is an Oakland-based startup that uses advancing technology to reduce the stress of healthcare for both consumers and healthcare professionals.
Solv partners with thousands of healthcare providers in the United States to deliver high-quality, convenient care that's simple, friendly, and transparent. Since their launch in 2016, Solv has facilitated over 27 million appointment bookings through their platform and continues to expand into new specialties and locations.
Services
UX Research
UI Design
Deliverables
B2C Location Directory
Custom SEO Analytics Engine
B2B Website
Interactive Coverage Maps
White Labeled Booking Microsites
2013
By the Pixel is hired to build urgentcarelocations.com, which grew into the #1 searchable database of urgent care centers nationwide.
2018
Solv acquires urgentcarelocations.com, making the location directory a pillar of their business. Solv retains By the Pixel to continue managing the location directory.
Today
By the Pixel serves as a core technology partner, extending Solv's development capabilities and providing agile development of new features and products.

By the Pixel has worked with Solv for over five years, becoming a true partner that works across a wide range of features and products.
User-friendly & comprehensive B2C location directory
This searchable database enables healthcare consumers to find providers across the United States using a localized faceted search.
The location directory has grown with Solv to support upwards of a million pages, all rendered server-side to maximize their search engine optimization (SEO) goals. Healthcare consumers can now easily search and book online beyond urgent care, finding locations and appointment slots that provide primary care, specialist care, labs, ancillary services, and more, driving more traffic to both Solv and their partners.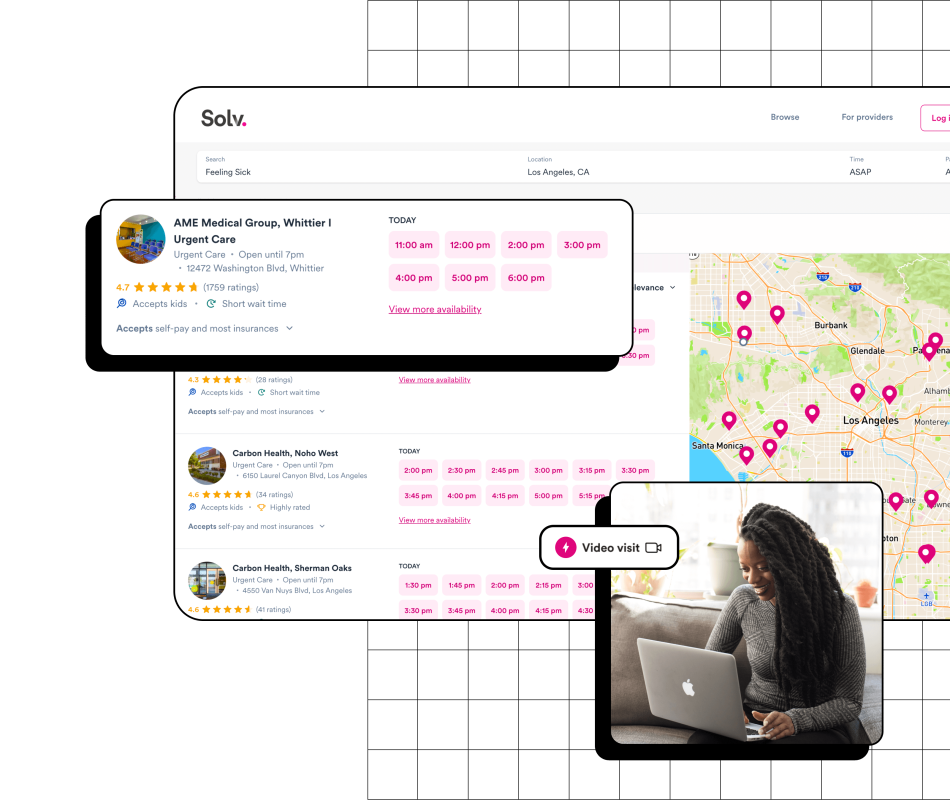 Custom SEO analytics engine
Since the core of their mission is all about connecting patients and providers, search engine optimization (SEO) is integral to Solv's business. In order to help them fine-tune their SEO strategy, we built a standalone analytics engine (a custom web application) that allows them to:
Target relevant keywords by location
Gain insight into local market fluctuations
Determine and analyze competitors
Using this SEO analytics engine, Solv can now determine search rankings based on specific keywords in specific locations. This enables them to track and compare rank changes in different geographical locations, all from a single application.
Conversion-driven B2B marketing website
We built a highly-converting marketing website to help Solv's sales team meet their ambitious goals. This website's audience is healthcare providers who are interested in Solv's software: it contains a blog, marketing content, contact forms, and search/claim your practice features, all specifically tailored for busy healthcare providers.
Once providers verify their business listing, the contact form seamlessly integrates with Solv's customer relationship management (CRM) systems for easy follow-up by their sales team.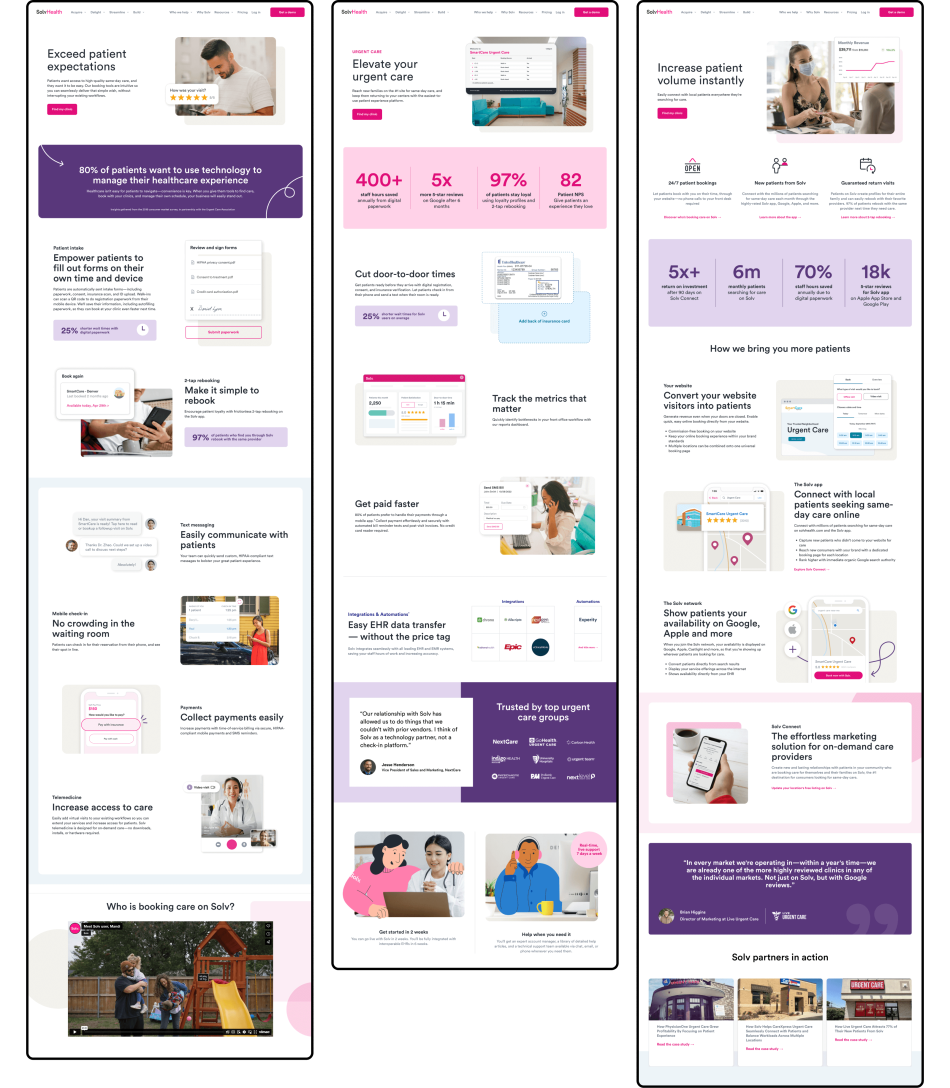 White-labeled booking microsites customizable to provider locations
Solv's booking technology has long been industry-leading, which gave them an opportunity to sell it as a standalone product. To help Solv capitalize on this opportunity, we created a white-labeled microsite feature that allows provider locations to display their unique branding within the Solv software suite.
This also allows healthcare providers to easily display and fulfill online booking directly from their own websites without additional integrations or development.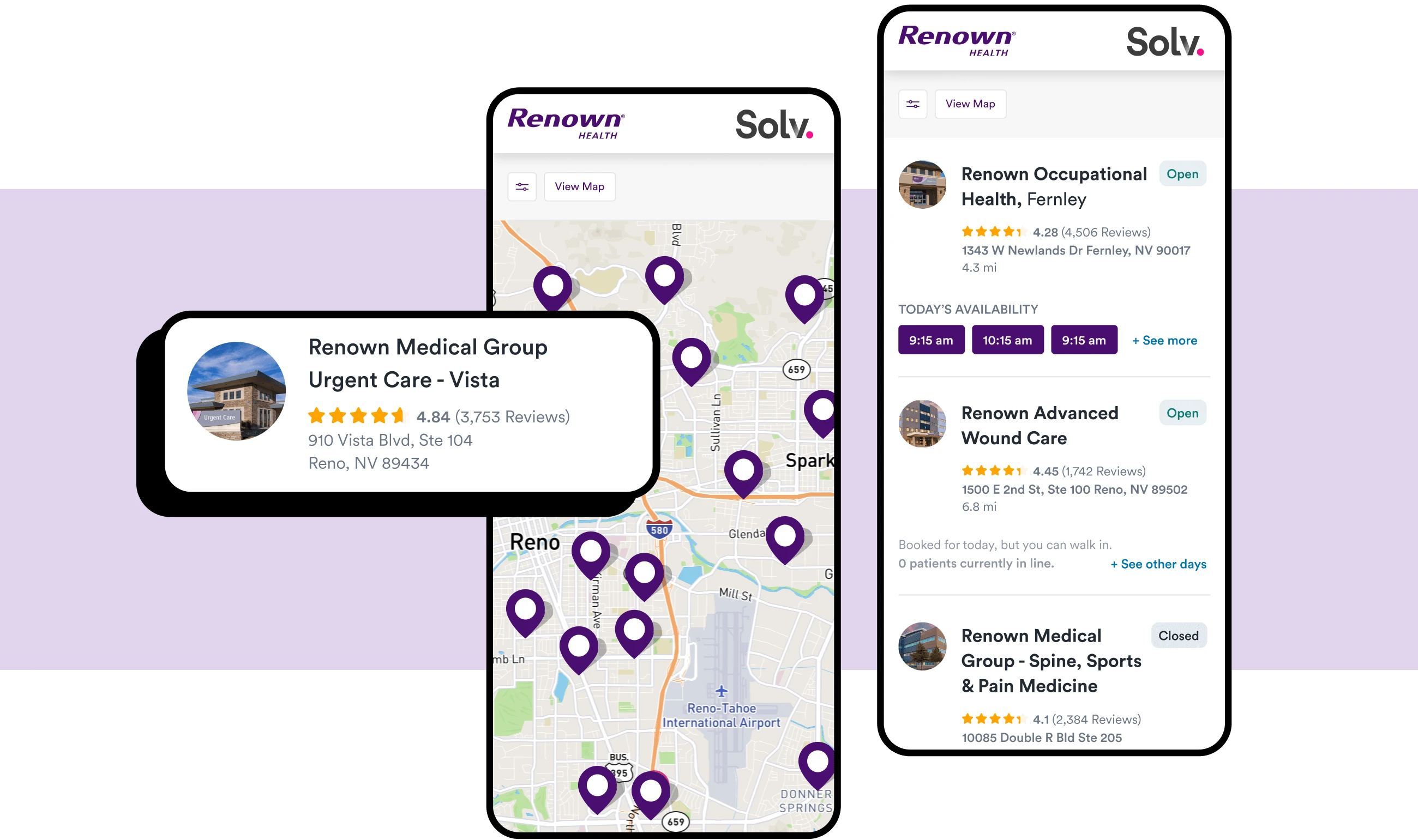 Increased tech capacity for an integrated partner
One of the biggest ways we help Solv is by serving as a proving ground for new features, page types, or other ideas. Our long-term understanding of their goals and our quick acting allows us to take these new ideas (as a minimum viable product (MVP) or proof-of-concept) for a spin before Solv performs a larger rollout. This help's Solv's team analyze the value of the new idea and allows us to predict future needs if/when the idea comes to fruition on a larger scale.
Finding solutions to serious engineering challenges is fundamental to Solv's business, which requires performance at scale in the demanding and unpredictable healthcare industry. By the Pixel provides invaluable burstability, flexibility, agility, and deep technical expertise that enables Solv to create features that reach tens of millions of healthcare consumers and providers every month.