Web design and eCommerce update for a leading trailer manufacturing brand
During our website redesign, we helped Cimarron Trailers make better use of their product data to design a brand-forward, interactive sales tool.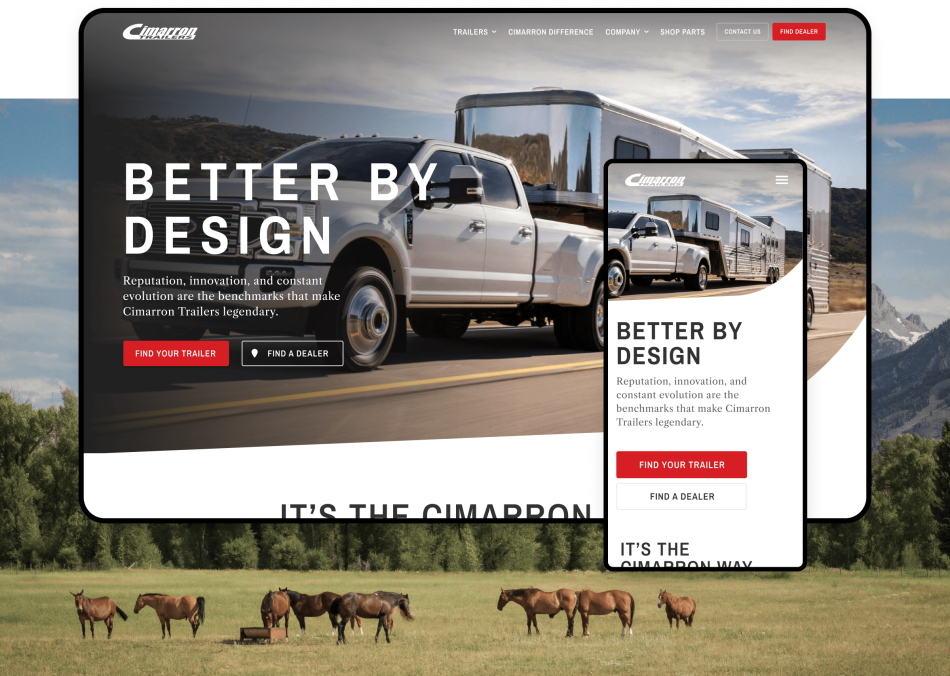 "Better by Design"
Leaders in the industry since 2000, Cimarron Trailers is committed to building high-quality, ultra-customizable horse/livestock and toy trailers. They work hard to ensure that their product is the right fit for each customer and use, and they value their reputation for excellent customer service.
Cimarron Trailers cares about the details, and they always keep safety, strength, and quality top of mind when designing and building trailers. Entirely employee-owned and operated, they also consider their customers to be an integral part of their family.
Services
Data Analysis
User Experience
Product Illustration
Deliverables
Custom Website
Database management
eCommerce
Custom CMS
Dealer Locator Map
Cimarron Trailers had two primary goals for their website:
Improved sales experience
Cimmaron Trailers' online sales experience did not fully display the unlimited customizations they proudly offer their clients. They wanted an interesting and engaging experience that inspired their customers to imagine the limitless possibilities.
Design refresh to better visually represent their brand and products
Cimarron Trailers' leadership envisioned a streamlined, beautiful website that better represented the understated and functional beauty of the products they offer.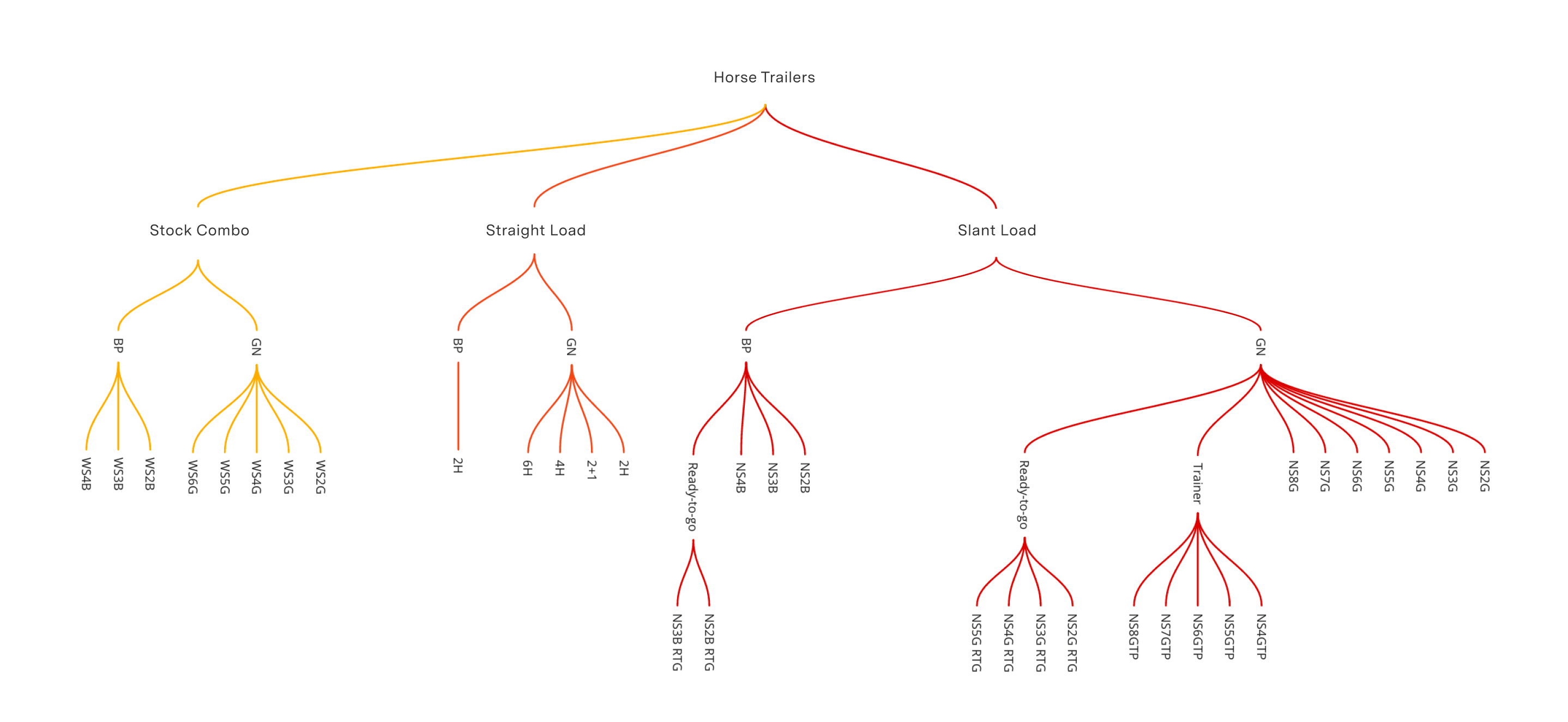 Scalable product data management
Since we wanted to give Cimarron Trailers' shopping experience a unique and future-focused edge, we imagined a virtual trailer builder that would allow customers to build a custom trailer from the ground up. But before we could make this happen, we needed to organize their products so that they could be programmatically retrieved from a manageable database. To achieve this, we spent significant time strategizing with Cimarron Trailers' leadership to help them categorize their product lines into collections and trim levels with specifications that ensured the most elegant and logical system that could grow alongside their products.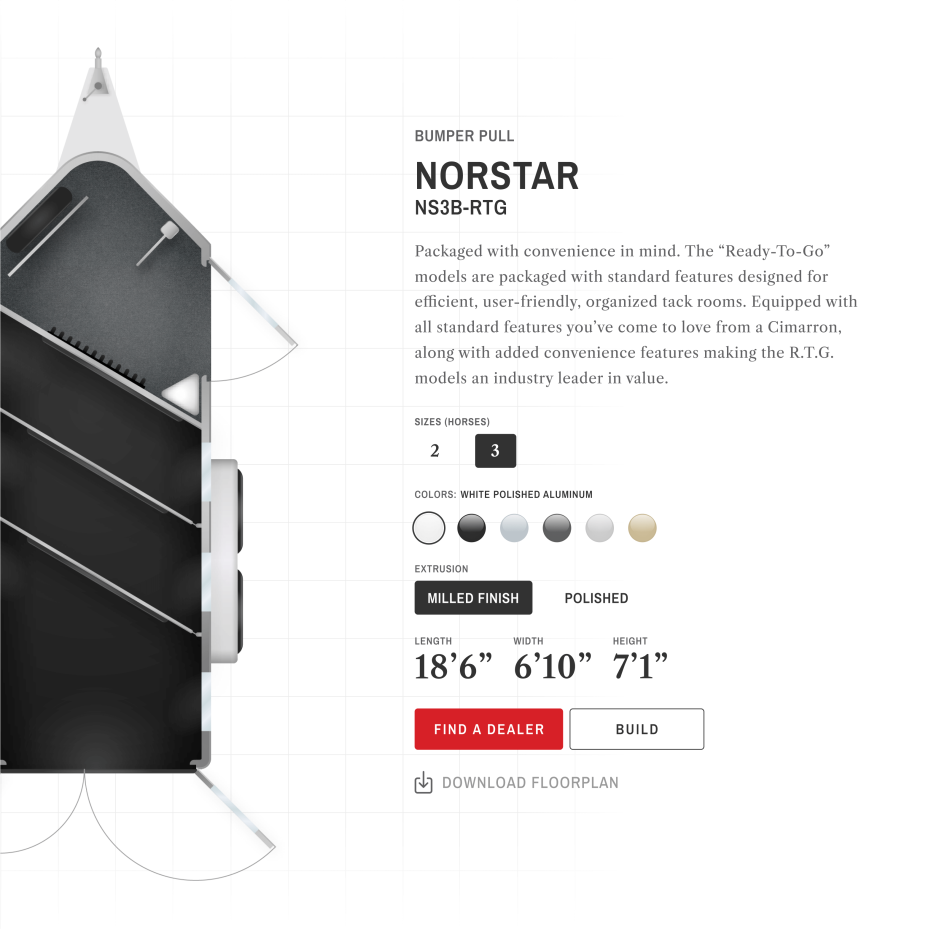 Interactive trailer builder experience
Once the product data were organized and retrievable, we built a virtual custom trailer builder for Cimarron Trailers' customers to create their dream trailers online. Starting on the homepage, customers begin making selections that lead them to an option to "design your own."
Within "design your own," customers are able to construct highly detailed, customized virtual trailers, including exterior and interior, tack room options, jacks, lights, and more. To further support the builder's experience, we also created three-dimensional, top-down illustrations that display an overhead layout. The immersive build process and top-down view help customers picture themselves - and everything they need to haul - in a Cimarron Trailer.
At the end of the online build, customers are prompted to request a quote, and Cimarron Trailers' representatives can help connect them with a salesperson. At the same time, this interactive sales tool provides the salesperson with a virtual model of the trailer the customer wants before contact is ever initiated, an invaluable head start for the sales team.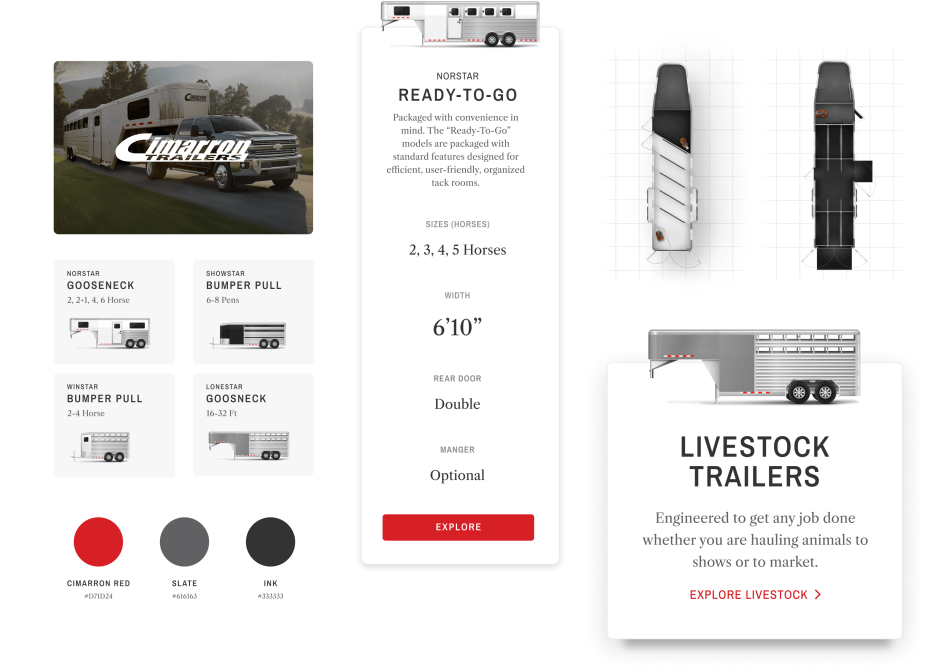 On-brand web design refresh
Using Cimarron Trailers' existing branding, we redesigned their website to better represent some of the aspects that make them stand out in their industry. We started by designing a site map that more readily connects people with what they're looking for. The website, which is built using PHP + Laravel and a Nova backend, now boasts simple, intuitive navigation that makes it easy for customers to read more information about trailer models, contact Cimarron Trailers team members, or find a dealership.
To visually represent their existing branding, we employed modern but audience-relevant web design and high quality images that speak to their reputation for quality and meticulous trailer design; meanwhile, we also created detailed and high-tech 3D profile and top-down illustrations of the trailers to help demonstrate Cimarron Trailers' ingenuity and continued commitment to innovation.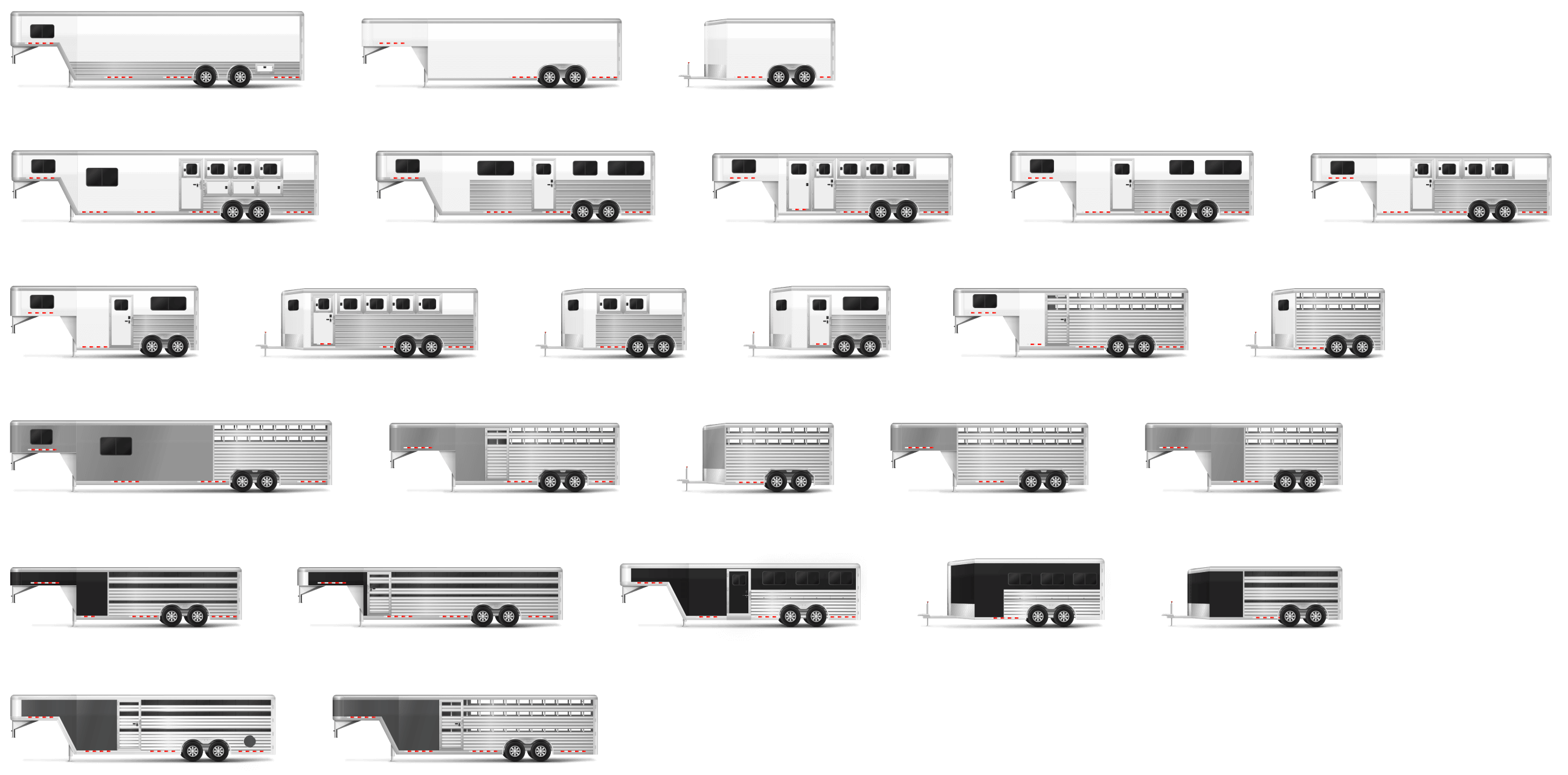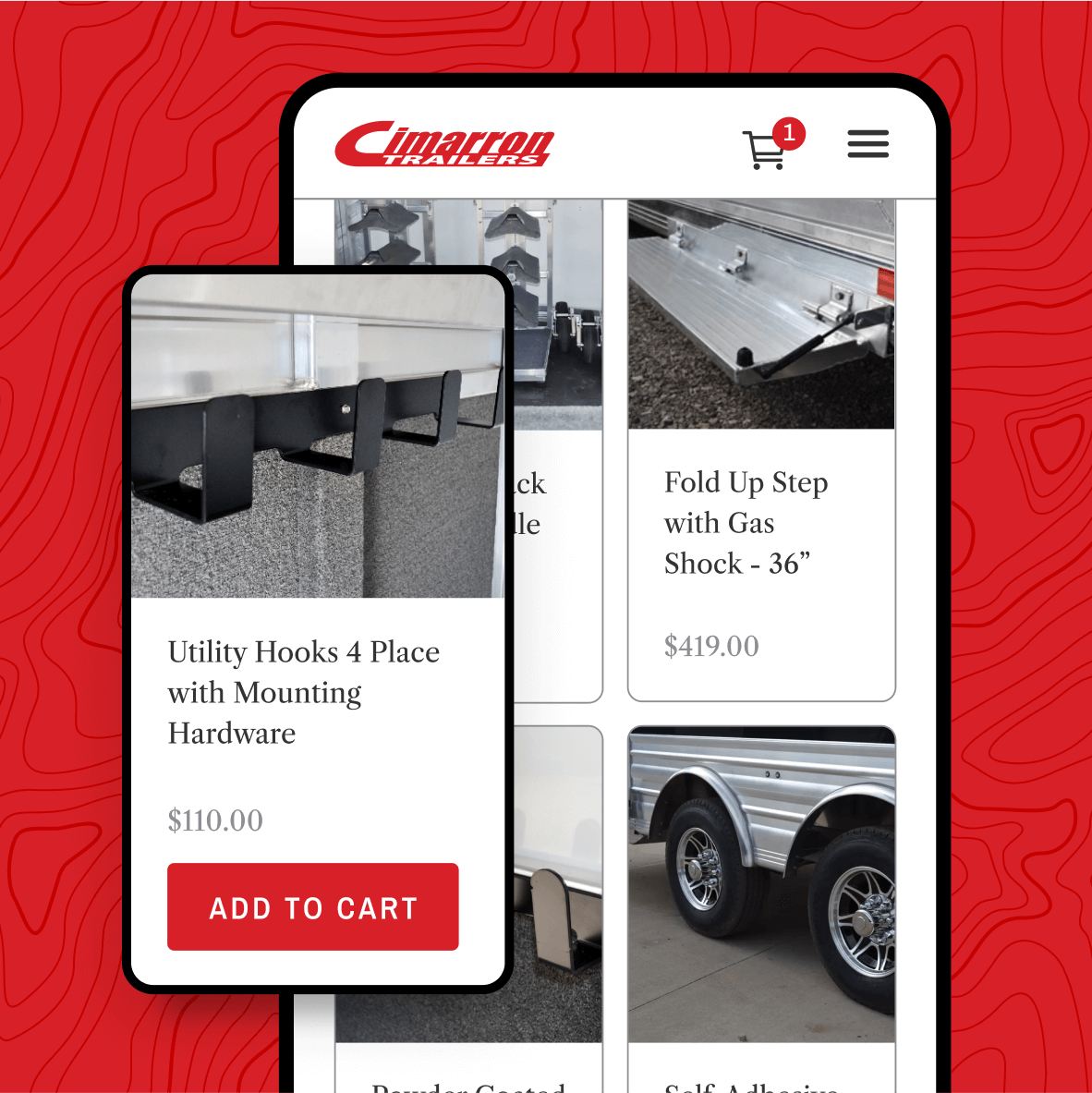 Streamlined parts store
Although Cimarron Trailers are only sold in authorized dealerships, customers are able purchase parts and accessories directly from Cimarron Trailers online. To streamline this process, we built a custom storefront and headless Shopify experience so Cimarron Trailers can display their product category information directly on their website. This allows them to have more ownership over their inventory, branding, and improve their domain authority for SEO while still benefiting from the user-friendly Shopify checkout integration.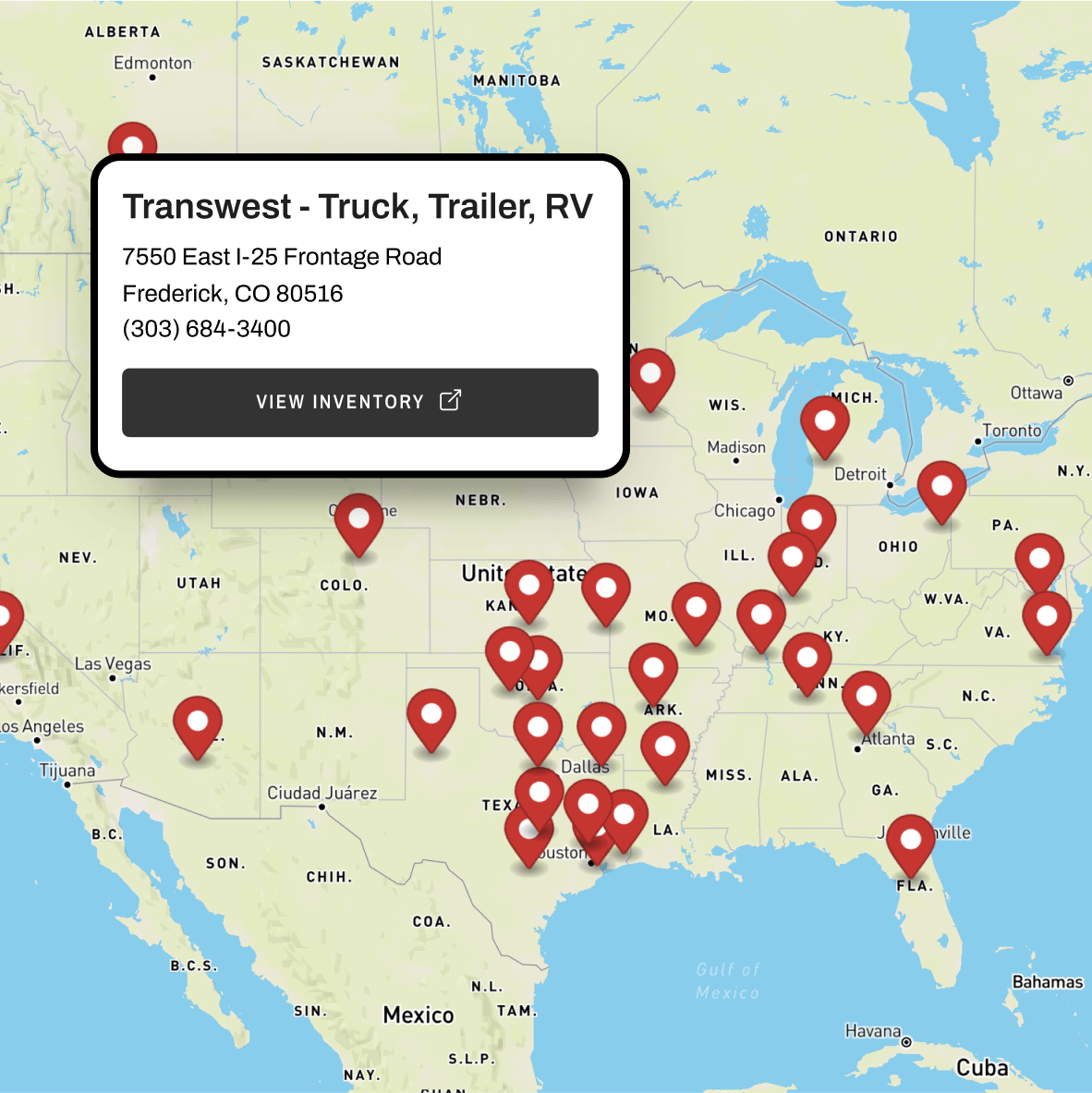 Dealer locator map
To help customers more easily find what they're looking for, we built a dealer locator map that is filterable by state for customers to find a Cimarron Trailers dealer near them. Cimarron Trailers' staff can now easily manage all dealers in this database using their custom Nova backend, and customers can use the online map to find dealers with their preferred products in stock.
2000+ leads
The site has garnered over 2000 leads since July 2021, and it continues to average around 3 qualified leads per day.
Easy to manage
Cimarron Trailers' leadership is now able to easily manage their product line, dealers, inventory, and content on their beautiful, intuitive website.
Enjoyable shopping experience
Customers enjoy a shopping experience that is more closely aligned with the brand thanks to the custom trailer builder and Shopify integration.